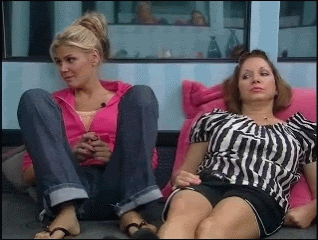 So I was thinking tonight's was gonna be ho-hum and of course I knew that Jerry won and didn't use the POV - however - how the hell did Libra not put ANY onions in the mystery box and still lose? Jerry had like 50lbs totall - just that some were in the mystery box. And WHY was Keesha crying that she didn't have enough for the POV? If she had put ALL her onions in the POV box instead of splitting them she would have won.


However - the best part of Tuesday's show was the fight and Keesha breaking down and doesn't April look more and more like Nellie Olson as the season goes on? I mean seriously, the day I say April is the only good looking woman in the BB house is the day Michelle, Libra, Keesha AND Renny have been evicted,

Oh and the picture of Keesha and Renny is just from this evening - I thought some would enjoy seeing her get beaned by a pillow by Memphis for being stupid.